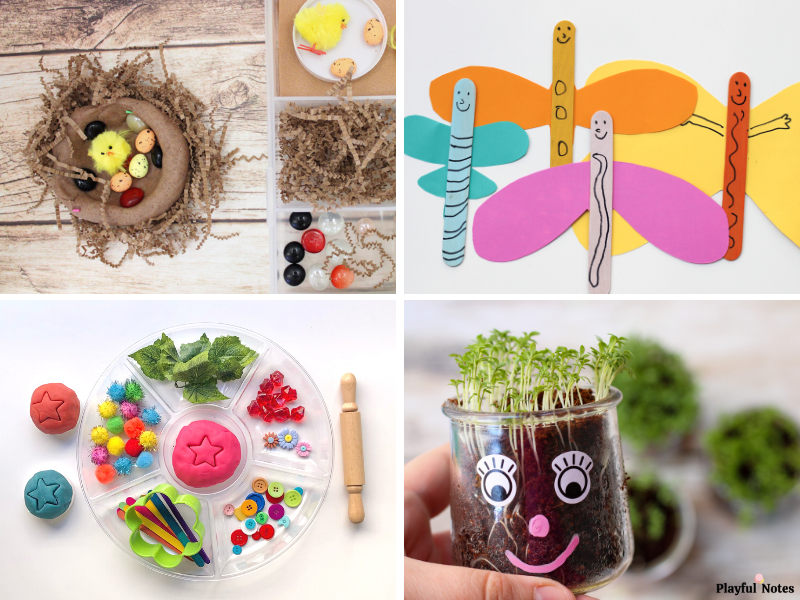 This post may contain affiliate links. Read my whole disclosure here.
If you are looking for some easy and fun activities to try with your kids this spring, I've gathered here a list of ideas that you can quickly prepare for your little ones.
I always look for simple and creative activities for my kids, and I enjoy watching them explore, play, and have fun when I prepare a new activity for them.
Almost all the activities we try at home are easy to prepare and don't require a lot of supplies. This makes it easier for me to come up with new activities for my kids without wasting a lot of time or energy preparing them.
One of the best ways to encourage creativity and independent play is to offer kids open-ended activities, so I often prepare "invitations to play" that allow them to use the materials in creative ways. You'll find some of our favorite ideas below, if you want to try them with your little ones.
12 spring activities for kids
On our list of spring activities for kids you'll find spring art projects, playdough activities, easy crafts, sensory play ideas, invitations to create, and more.
I hope your kids will enjoy trying these ideas!
1. Cress heads: A lovely spring activity for kids
Growing cress heads is an easy way to plant seeds with kids and enjoy seeing the plants grow quickly. And they look really cute as well!
Materials needed:
pots or jars (we used yogurt jars)
soil (you can also use cotton wool balls)
supplies for decorating the cups / jars
Instructions:
Invite the kids to decorate the cups or jars you plan to use for planting the seeds and draw faces on them. We used eye stickers and paint markers.
Put soil (or wet cotton wool balls) inside the cups and add the seeds.
Place the jars in a dry, well-lit place. The plants will began to grow in a few days, and the jars will look very cute.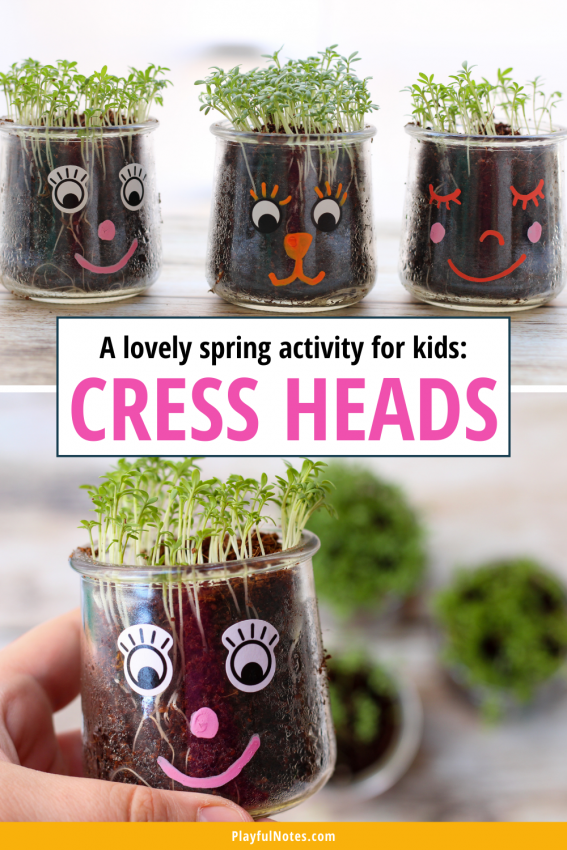 ---
2. Invitation to create: Build a bird nest
You can find many nice spring decor items in craft stores this time of the year, and you can use them to create fun activities for your kids!
For this activity, I used chenille chicks and mini decor eggs to prepare a fun invitation to build a bird nest and my son loved it!
Materials needed:
playdough
chenille chicks (from craft stores) or miniature birds (like these ones)
mini eggs
shredded paper
twigs
fabric scraps or yarn strings
flat glass marbles
You don't need all these supplies to prepare the activity. Just a few supplies are enough.
Place all the supplies in a box or on a tray and invite the kids to play with them, build nests, and have fun.
---
3. Spring flowers: An easy spring-themed playdough activity
This simple playdough activity is fun for many ages, and you can quickly prepare it with just a few supplies.
Materials needed:
playdough
craft sticks
pom poms
craft supplies (like buttons and craft gems)
Place all the supplies on a tray (I use this divided tray because it allows me to organize the supplies easily). Then invite the kids to create playdough flowers and decorate them.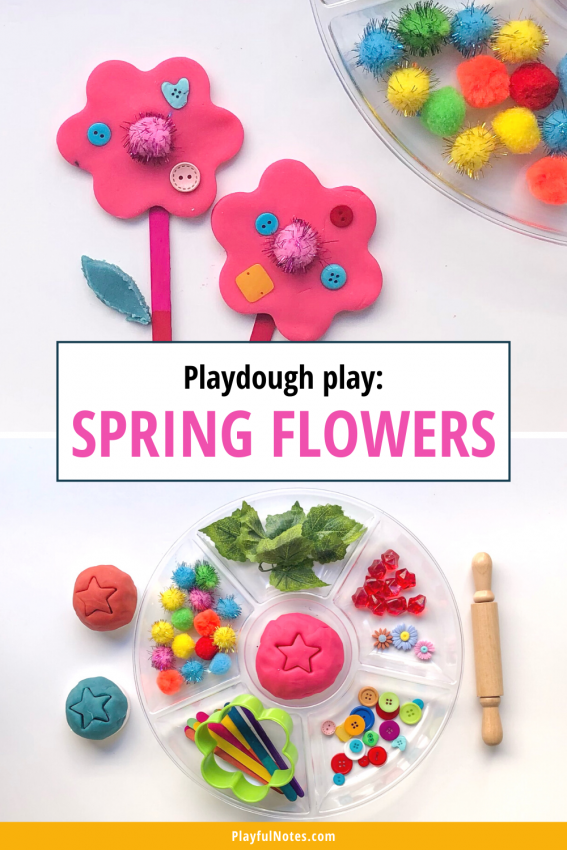 ---
4. Invitation to create: Decorating playdough eggs
This Easter themed invitation to create is a lovely way to encourage kids to use their creativity to decorate playdough eggs.
Materials needed:
playdough
craft supplies to decorate the playdough eggs (we used beads, buttons, and craft gems)
egg shaped (or round) cookie cutter
I didn't have an egg shaped cookie cutters, so we used a round cookie cutter and modified the shape a little bit so it looks like an egg.
Invite the kids to get creative decorating the eggs. You can use this opportunity to talk about different patterns they can create or encourage them to come up with new designs for every egg.
---
5. Spring-themed sensory bins for young kids
Young kids love sensory play and it is easy to prepare a sensory bin for them using a few supplies you have around the house.
(Make sure that the supplies are safe for your kids and always supervise them when they play with a sensory bin.)
Here are two of the sensory bins that I created for my youngest son this spring (you can see them in the picture below):
Rainbow rice and Easter eggs (I used: homemade rainbow rice, beans, plastic eggs, spoons, an egg carton.)
Bunny-themed sensory bin (I used: split beans, two little bunny toys, plastic carrots, craft sticks, a wooden slice, wooden spoons.)
---
6. Paper insects
We started this activity with the idea of creating "super heroes" using craft sticks and colored paper, but my son wanted to make paper insects instead. And we enjoyed creating them together!
Materials needed:
colored paper
sharpie marker
paint
glue (we used this glue that is great for craft projects)
Instructions:
Invite the kids to paint the craft sticks and draw the insect bodies with the sharpie marker.
Then invite the kids to draw the wings on the colored paper. (Fold the paper and only draw one side of the insect's body staring from the folded side of the paper.)
Help the kids cut out the wings.
Unfold the paper and glue it on the back of the craft stick. If they want, kids can also decorate the wings and add more details to their paper insects.
---
7. Watercolor flowers: A colorful art activity for kids
Materials needed:
watercolor paint
crayons (or oil pastels)
(watercolor) paper
scissors and glue
(optional) green paper for the stems.
Instructions:
Invite the kids to use the crayons and the watercolor paint to color a whole blank piece of paper with as many colors they want.
After the paint had dried, cut out different flower petal shapes from the painter paper. We folded the paper to cut out several petals at a time so they look the same.
Cut out a circle for the center of the flower and glue all the petals together on the center. We added an additional circle at the back of the flowers to keep all the petals in place.
You can use the paper flowers to create a collage or a garland, or to decorate your house for spring.
---
8. Egg decoration with loose parts
This Easter-themed invitation to create is very similar to the playdough egg decorating activity, but it offers kids the opportunity to use different supplies (like paint sticks or washi tape).
Materials needed:
egg shaped pieces of paper (we used both blank paper and colored paper)
loose parts for decorating (buttons, craft gems, felt shapes, beads)
paint sticks
washi tape
glue.
Instructions:
Cut out egg shaped pieces of paper, then added them and all the other supplies in a box or tray.
Invite the kids to use the supplies to decorate the eggs. Get creative and have fun!
---
9. Rainbow collage: A beautiful collage art activity
This was one of our favorite activities! The rainbow collage looks beautiful and you can easily create it with your kids.
Materials needed:
cardboard (e.g, from a cereal box)
scissors
colored paper in all colors of the rainbow
craft supplies in the colors of the rainbow (pom poms, craft gems, buttons, yarn, tissue paper)
glitter glue or glitter
glue
Instructions:
Cut out a rainbow out of cardboard.
Prepare the supplies for each color. We used paper plates to organize the supplies. Involve the kids in this step and invite them to sort the supplies.
Use the supplies to create a colorful rainbow.
---
10. Bugs and flowers playdough kit
Creating a playdough kit is a great way to encourage independent play, and you can easily adapt it to your child's interests. Here is an easy idea to try this spring.
Materials needed:
playdough
mini insects
pom poms
craft sticks
craft gems
flower shaped cookie cutter (I also added some butterfly shaped cookie cutters)
Put all the supplies in a box and invite the kids to explore them and play.
---
11. Rainbow play kit: An easy way to encourage independent play
An easy way to encourage independent play is to create little play kits for the kids to use on their own.
This spring I created 2 rainbow-themed play kits for my kids and they inspired many activities!
You can get all the details about the kits here: Simple rainbow play kit for kids.
---
12. Butterfly symmetry painting
My son loved this activity and he repeated it several times to create new designs for his butterflies.
Materials needed:
(card stock) paper
any type of liquid paint for kids (tempera paint, liquid watercolor paint, washable paint bottles)
scissors
paint brushes.
Instructions:
Cut out a butterfly shape out of paper. To make it symmetrical, fold the paper in half, draw a half butterfly along the fold, cut it out and unfold the paper.
Invite the kids to add drops of paint on one side of the butterfly.
Kids can either squirt paint straight out of the paint tube or use the paint brush to add the drops of paint.
Then invite the kids to fold the side without paint over the painted side and rub it with their hands until the color gets on both sides.
Unfold the paper and see how the symmetrical butterfly turned out.
---
More spring activities for kids
Here are some additional spring activity ideas to try with your kids:
Create with Spring Colors (by Buggy and Buddy) – a spring art project that encourages kids to get creative (you will need watercolors, tissue paper, and liquid glue)
Painted branch (by Art Bar) – a collaborative art activity that the whole family can enjoy together
Enjoy and have fun!