This post may contain affiliate links. Read my whole disclosure here.
Inside: Discover an awesome list of art supplies for kids that will bring hours of creative fun!
In the last few years, we tried many art supplies in our home.
My eldest son likes to draw and paint, and I always want to encourage him to develop his creativity!
During the pandemic, when we spent a lot of time at home, art activities became part of almost every day. My son started started attending online art classes, and they helped him learn new things and discover even more art materials!
Now, my youngest son participates in many of our art activities as well, and we try new ideas and materials together all the time!
This is why I decided to put together a list of the best art supplies for kids that we discovered over the years!
If you are looking for new art materials for your children, I hope you'll find here the inspiration you need to choose some awesome supplies for them!
Also, if you want to prepare a creative space in your home, creating an art cart for kids can be a great way to keep all the supplies organized and encourage your kids to use them! You can check out our art cart here.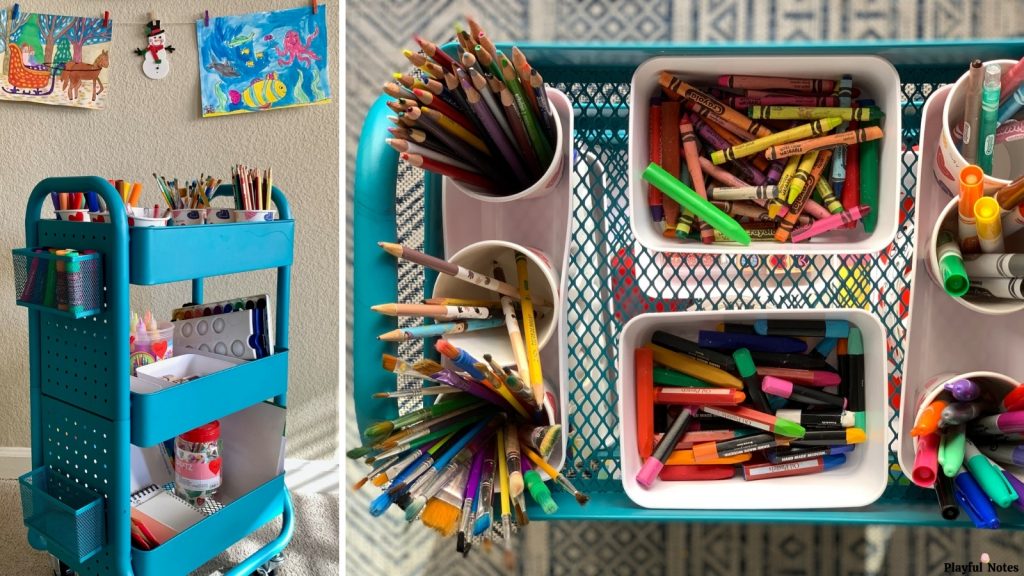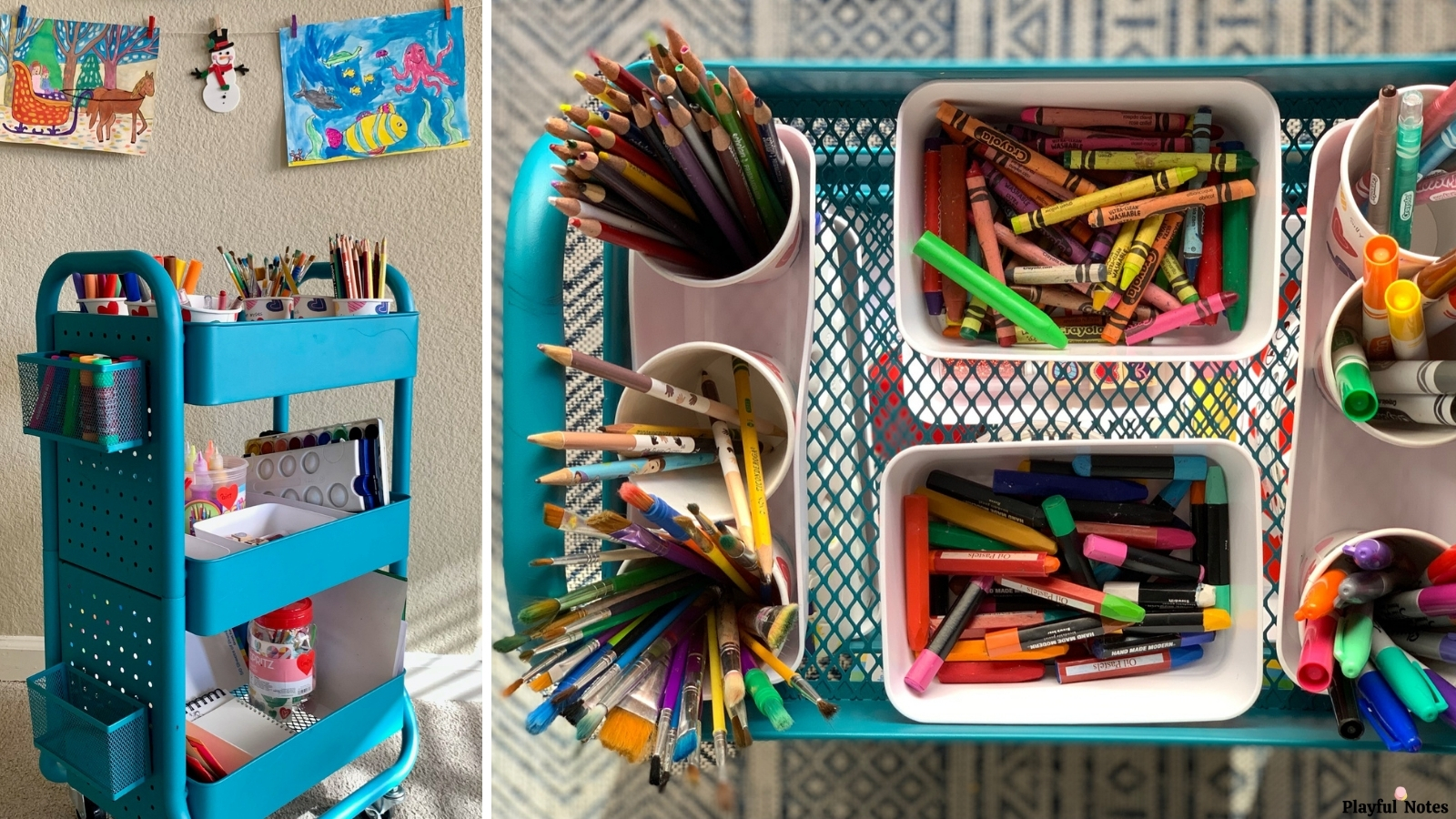 We rotate the art supplies on our art cart regularly, depending on my son's interests and the art activities he wants to try. Here are some of the supplies available in our cart:
And here is an art caddy I created for my youngest son to make his creative time more fun:
Below you can find a complete list of our favorite art supplies. We used them over and over again in our home, and I hope your kids will enjoy them as well!
---
Best art supplies for kids: Drawing supplies
Basic drawing supplies:
washable markers
crayons (and twistable crayons)
sharpie markers (great for older kids)
More drawing supplies for kids:
(1) World Colors Ecopencils – a set that includes both traditional colored pencils and skin tone pencils that are great for creating portraits
(3) Beeswax Crayons (I like these triangular-shaped crayons because they help young kids learn the proper grip and they also don't roll of the desk)
(6) Do A Dot Art! Markers – perfect for young kids (we used them in many learning activities when my son was younger)
---
Best art supplies for kids: Painting supplies
(3) Spill Proof Paint Cups – the perfect paint cups for young kids (I also like that you can pour paint in the cups and keep it fresh until the next time you need it)
(5) Acrylic Paint – a set of wonderful colors that are great for older kids.
---
Best art supplies for kids: Other supplies
These supplies make creative time even more fun for the kids!
(1) Stickers (we often use them as art prompts)
(3) Glitter glue (suitable for ages 6 and up – adult supervision suggested)
(5) Washi tape – a colorful set that can be used in many creative projects
(6) Stamps (we like the Melissa & Doug stamp sets the most)
More fun supplies for art projects: glitter, yarn, shape paper punches, chalk markers, glitter paper, craft gems.
---
Best art supplies for kids: Art paper (and an awesome art easel)
(4) Drawing pad (I like the idea of offering kids a drawing pad instead of having a lot of drawings all around the house)
(5) Paint pad (watercolor paper is great for painting projects).
I'm looking forward to discovering more awesome art materials with my kids, and I'll make sure to update this list with our favorite ones!
In the meantime, if there are any art supplies you would recommend, I would be glad to find out what your favorites are!
Have fun creating with your little ones!
---