This post may contain affiliate links. Read my whole disclosure here.
Inside: Discover 18 awesome Easter egg activities for kids that you can quickly prepare for your little ones! The kids will have fun with these Easter activities and they will have plenty of learning opportunities as well!
There are so many fun ways for kids to play and learn with plastic eggs!
Every year, as soon as I see the plastic eggs in stores, I get a set for our egg hunt and start using them to create activities for the kids!
It's very easy to prepare Easter egg activities for many ages from toddler to school-aged kids, so today I gathered here a list of our favorite ideas in case you want to try them with your little ones!
This list includes:
fun games to play with plastic eggs
math and science activities using plastic eggs
literacy activities to create with plastic eggs
sensory play ideas
other fun ideas to try using Easter eggs.
I hope you and your kids will enjoy this list!
---
Fun games to play with plastic eggs
This fun guessing game was one of our favorite Easter egg activities!
You can easily prepare it using plastic eggs, playdough, and small items to use as little treasures for the kids to discover inside the eggs.
You can get all the details for preparing the game here.
2. DIY memory game for kids (by Happily Ever Mom)
This game is great for young kids and you can quickly prepare it using pairs of small items from around the house.
3. Plastic Easter egg and spoon race
Invite the kids to an egg and spoon race using plastic eggs. It's fun for many ages and it can also be a fun outdoor family activity.
4. "Find your team" memory game
This 2-player game is great for older kids because it makes the "classical" memory game more fun and engaging. The players need to find all the "members" of their team by guessing where they are hidden under the eggs.
Easter egg activities: Math and science with plastic eggs
5. Hide and seek with plastic eggs (by Little Bins for Little Hands)
This number recognition game is a fun way for preschoolers to practice recognizing numbers from 1 to 20.
6. Counting with Easter eggs (by Nurture Store)
If you also want to practice counting with your child, try this simple activity using plastic eggs and mini erasers.
7. Math game using plastic eggs
This game is great for encouraging kids to practice addition in a playful way. You can easily adapt this idea for younger or older kids based on their skill level.
8. Magnetic science with plastic eggs (by Modern Preschool)
This easy activity is a really fun way for kids to figure out which kinds of objects are magnetic and which are not.
9. Easter catapult STEM activity (by Little Bins for Little Hands)
Kids will have a lot of fun building these simple catapults and launching eggs all over the house.
Easter egg activities: Literacy fun with plastic eggs
10. ABC egg hunt (by Toddler Approved)
This idea combines a fun egg hunt with a matching activity that helps preschoolers practice uppercase and lowercase letters.
11. Easter egg alphabet scavenger hunt and matching activity (by School Time Snippets)
This activity is similar to the previous one, but it's more suitable for younger kids who are learning the alphabet.
12. Discover the words – a spelling activity using plastic eggs
For this activity, I placed a set of letters forming an animal name in each of the eggs. Then I put all the eggs in a basket and invited my son to open them and discover what animal "hides" inside.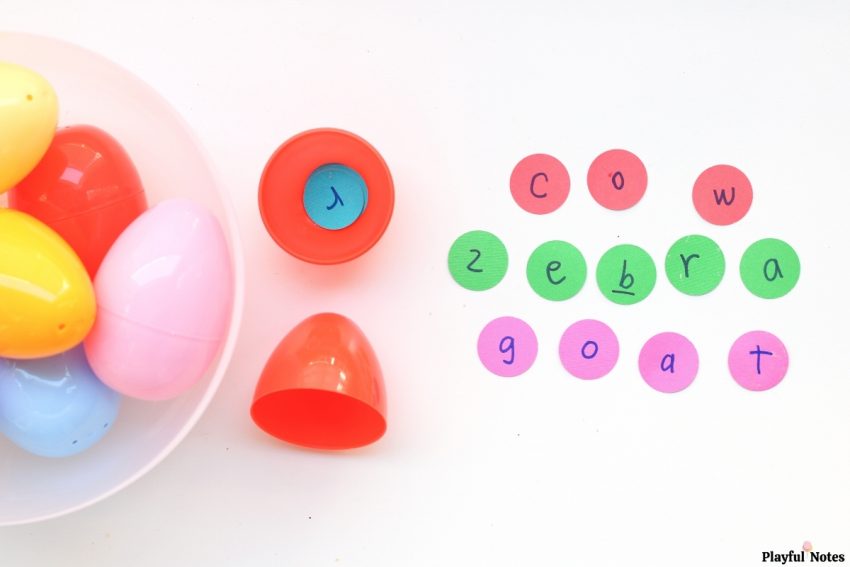 You can invite your child to write all the animals on a list to encourage them to practice writing as well.
Sensory play using Easter eggs
13. Easter egg sensory shakers (by Laughing Kids Learn)
These shakers are very easy to create and young kids love to test out the different sounds they make.
14. Sensory fun with plastic eggs
You can prepare a fun sensory activity for young kids using plastic eggs, rainbow rice, spoons, and beans. (Make sure to choose items that are safe for your child.)
This activity is a great opportunity for kids to develop fine motor skills and hand-eye coordination.
Other Easter egg activities for kids
15. Easter fine motor color matching activity (by Little Bins for Little Hands)
This activity is perfect for toddlers because they get to practice their fine motor skills and also learn about the colors.
16. Plastic Easter egg prints (by Learn Play Imagine)
Easter eggs are also great for this simple print making activity for young kids.
17. Color combinations
If you want to prepare a quick challenge for your kids, try this idea! Place egg halves in a big bowl and invite the kids to create as many color combinations as possible (e.g, red top and yellow bottom, green top and blue bottom, orange top and bottom, etc).
18. Egg towers (by Frugal Fun for Boys)
This fine motor balancing game is a great way to encourage young kids to practice their skills while having fun stacking the eggs on the straws.
---
I hope your kids will enjoy these activities!
If you are looking for more Easter activities to try with your kids, check out this list: 23 easy and fun Easter ideas for kids that you can try at home.