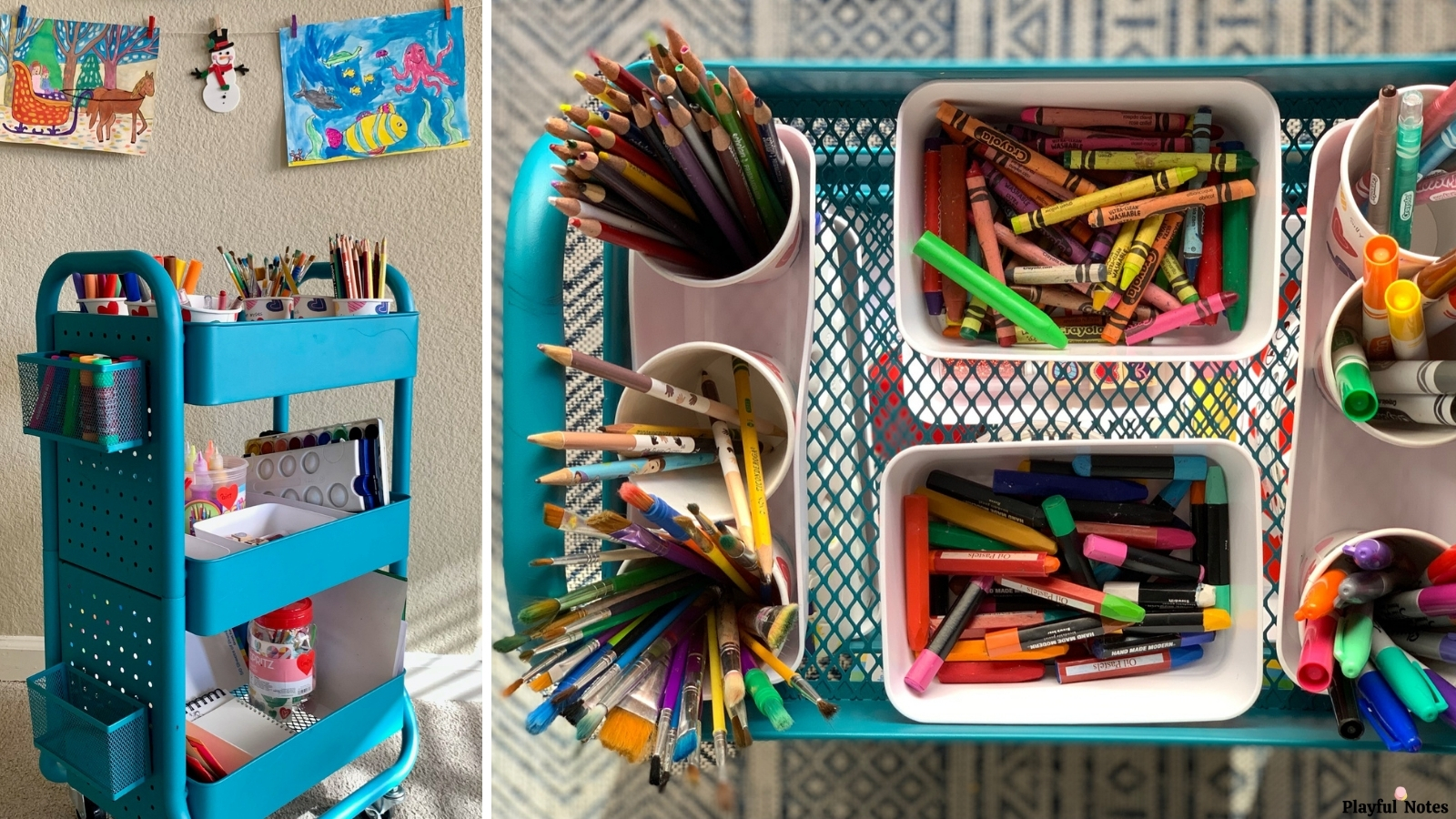 This post may contain affiliate links. Read my whole disclosure here.
Inside: Creating an art cart for kids is a great way to encourage independence and creativity! It will bring your kids hours of creative fun, and it will make cleaning up and keeping art supplies organized a lot easier!
I love to see my kids express their creativity, so I wanted to find a way to encourage them to be creative while keeping things organized and easy to clean up.
One of the best ideas I discovered to make creative time fun for the kids and easy to manage for me was creating an art cart for them.
We started using an art cart a few years ago and it still is one of the most beloved items in our playroom. My oldest son likes to draw, paint, or create things almost every day, so he uses the art cart all the time!
If you are looking for a way to organize your kids' art supplies and prepare a creative space for them, an art cart can be a great solution!
The cart makes it easy for the kids to access the art materials and use them anytime they want. Also, it makes cleaning up a lot easier because the kids just need to put all the supplies back in the cart when they finished using them.
One thing I love about the art cart is that we can quickly move it around the house.
My son loves to stay next to me while he plays, and he can easily move his art cart in the living room anytime he wants. Sometimes he even likes to take it to the patio and spend some creative time outdoors.
An art cart for kids encourages independence and creativity, so it can bring hours of creative fun for your little ones!
---
How to create an art cart for kids
To create an art cart for your kids, you will need a 3-tier rolling cart and your children's favorite art supplies.
We have this rolling cart we bought on Amazon, but you can also find nice carts at Ikea or in craft stores.
When deciding what to include in your art cart, your child's age plays an important role.
I never included items that I wouldn't feel comfortable letting my kids use anytime. For example, when my oldest son was younger, the glitter and the big paint bottles were not available on his art cart (we only used them together).
Another important thing to consider when creating an art cart for your kids is what they like to use in their art projects.
My son went through different creative stages over the years. Sometimes he liked to draw and use crayons and oil pastels a lot. Other times, he was interested in painting or using craft supplies in his artwork.
This is why our art cart changes regularly, depending on his interests. I like to rotate the art supplies he has on his cart, and this makes his art cart feel "new" and interesting all the time.
One last thing to consider before creating your art cart is to offer limited options, especially for young kids.
If the cart has too many supplies, kids can easily get overwhelmed. Offering limited options encourages kids to focus on the art materials they have at hand and get more creative.
I made this mistake at the beginning, when I added a lot of supplies on my son's art cart, thinking that this will boost his creativity.
When I realized that this had the opposite effect, I started choosing fewer items for his cart and rotating them regularly.
---
What we included in our art cart
If you need some inspiration in deciding what to include in your art cart, you can see below what our cart includes right now.
The top shelf of our art cart includes drawing supplies:
crayons (and a few twistable crayons)
We also added the paint brushes on the top shelf to make them easily accessible.
---
The middle shelf of our art cart includes painting supplies and fun art supplies:
fluorescent paint from Ikea
a little box with stickers (including some eye stickers that my son uses often)
a little box of "fun supplies"
I change the content of this little box often to offer my son new supplies to use in his creations. The box in the picture above includes stamps, washi tape, and glitter.
---
The bottom shelf of our art cart includes paper and craft supplies:
a little box with pieces of colored paper
a small jar of craft supplies.
We often also have a watercolor paper pad and recycled materials (like paper tubes, egg cartons, small cardboard pieces) on this shelf.
On the side of the cart we have some extra storage space where I stored the paint sticks.
---
Our favorite art supplies for kids
Over the years, the content of our art cart changed many times, as my son grew up and discovered new art materials.
This allowed us to discover many great art supplies for kids that brought many hours of creative fun in our home.
⭐ If you are looking for some new art supplies for your kids, you can discover our favorite ones here: The best art supplies for creative activities at home.
---
I hope you liked the idea of creating an art cart for your kids! If you decide to try it, I'm sure it will bring a lot of fun to your little ones!
An art cart is such a simple resource to create for the kids, and it can have a wonderful impact on their creativity!