This post may contain affiliate links. Read my whole disclosure here.
I am a big fan of giving kids a lot of freedom during their childhood.
They need to play a lot, have fun, and enjoy every moment of these wonderful years!
But I am also convinced that rules are important for children! They help them understand what is right or wrong and allow them to learn how to behave.
I am really lucky that my son likes rules too! It may seem strange, but he is happy to follow rules as soon as he understands the reason behind them. This is why lately, I thought a lot about how to create family rules for our home.
I wanted to do this in a way that will make my son want to follow them. I never used time-outs or punishments for enforcing our rules, so I don't plan to do this in the future either. So I decided to create our family rules in a playful way and make sure that he will be happy to follow them.
Here are the steps that helped me implement our rules.
1. Involving the child in the setting of the rules
The parent is the one who sets the rules. But kids can have a word on this too! So I created a list of rules, and I talked about each of them with my son.
I explained why each rule is important. And I asked about his opinion. He was happy to be involved and came up with some suggestions to add to the list!
2. Keeping the rules simple and clear
For young kids, it is really hard to remember and follow a lot of rules. This is why creating simple and clear rules is very important!
3. Combining the family rules with our family values
I didn't want our rule list to be boring or too demanding. So I've added our family values on the list! They are a great way to remind us what is important for us. They also provide us a good motivation for following the rules.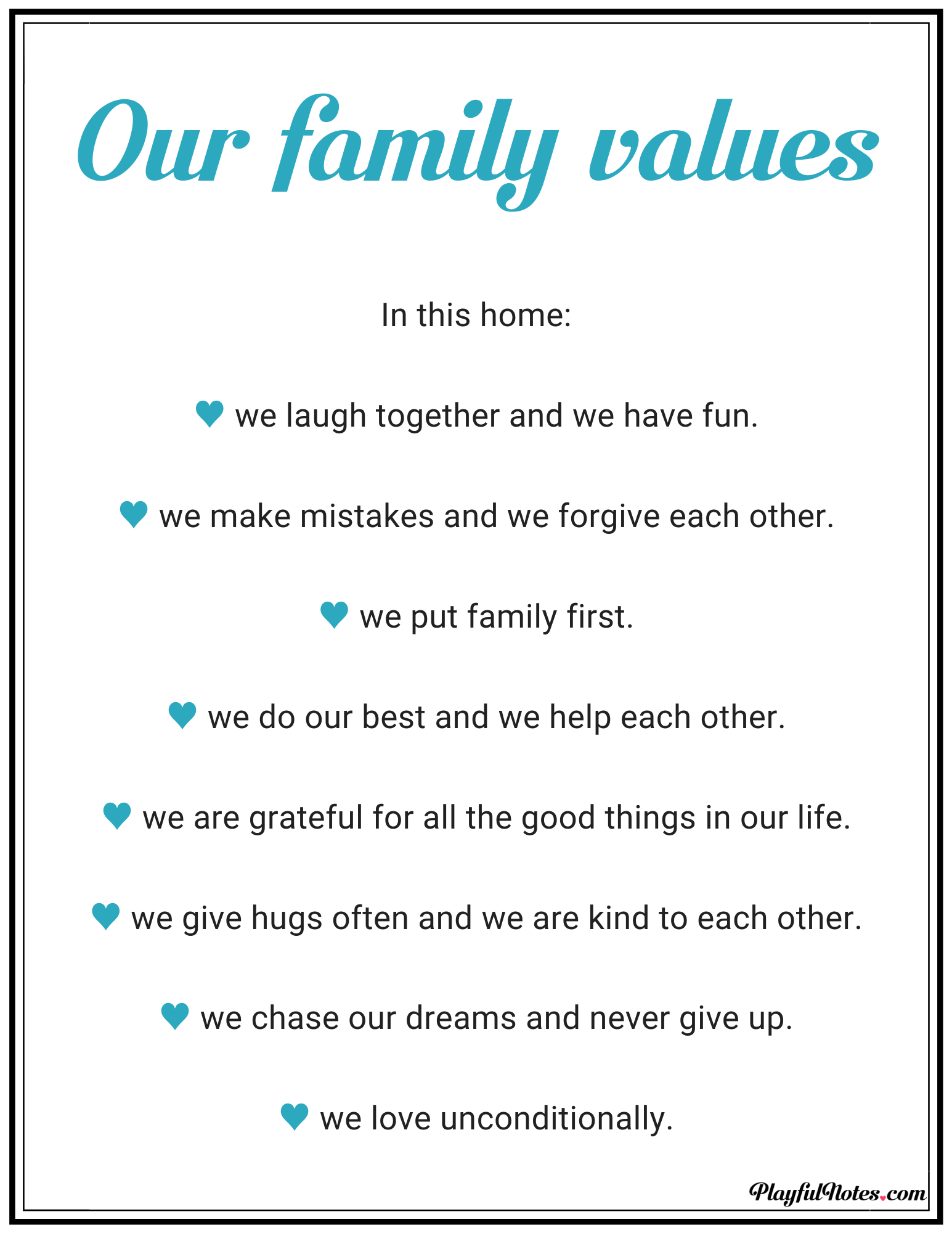 Here are the family values I've added to our list:
This list is also a wonderful reminder for me. When I face a difficult moment, reading the list helps me regain my positive mood more quickly.
I read this list to my son from time to time, and he is happy to talk about it. I hope that these values will always guide him through life.
4. Creating a set of rules that we all follow
We cannot expect kids to follow rules that we don't follow. We cannot ask a child not to yell when he hears us yelling all the time. We cannot require him to be polite if we don't use polite words ourselves.
So I created rules that apply to all of us! I make sure that my son follows the rules, and I always remind him of them when he doesn't obey one of them.
And I taught him to do the same with me. If I raise my voice, he knows that he can tell me that this is wrong and against our family rules.
This not only helps me calm down quicker, but it also teaches him (once again) how important our rules are. This approach makes him want to follow the rules. And he is happy when he has the chance to remind us about the rules and see us following his advice.
5. Putting the rules into practice
We displayed the list in our home, so we always have it at hand. We read it from time to time just as a reminder, in a playful way.
Also, when my son disobeys one of the rules, I remind him about the list. I just tell him that we agreed on that rule, and it's important to follow it. As I wrote before, I never use time-outs or punishments when he doesn't follow a rule. Instead, I discuss the issue with him, and I suggest possible solutions for avoiding the problem to appear again.
Sometimes he has a hard time following a rule, and in that case, I know I need to set a firm limit on his behavior. I talked more about how I do this here: How to set limits with young kids in an effective and gentle way with 3 simple steps.
I know that this approach (of not using any punishments) may seem strange and inefficient to many parents, but it works great for us. If you are curious to find out more about it, I invite you to read this article: Our story of raising a child without punishments (or time-outs).
Our list of family rules
Every family is unique, so the rules can be different in each home. Still, I think that most of them apply to everyone. I share here our list, in case you like it, and you want to implement it in your house.
You can download it using the form at the end of the article.
I also created a template in case you want to create your own list. No matter what rules are most important for you, I'm sure that a positive and playful approach will help your kids follow them.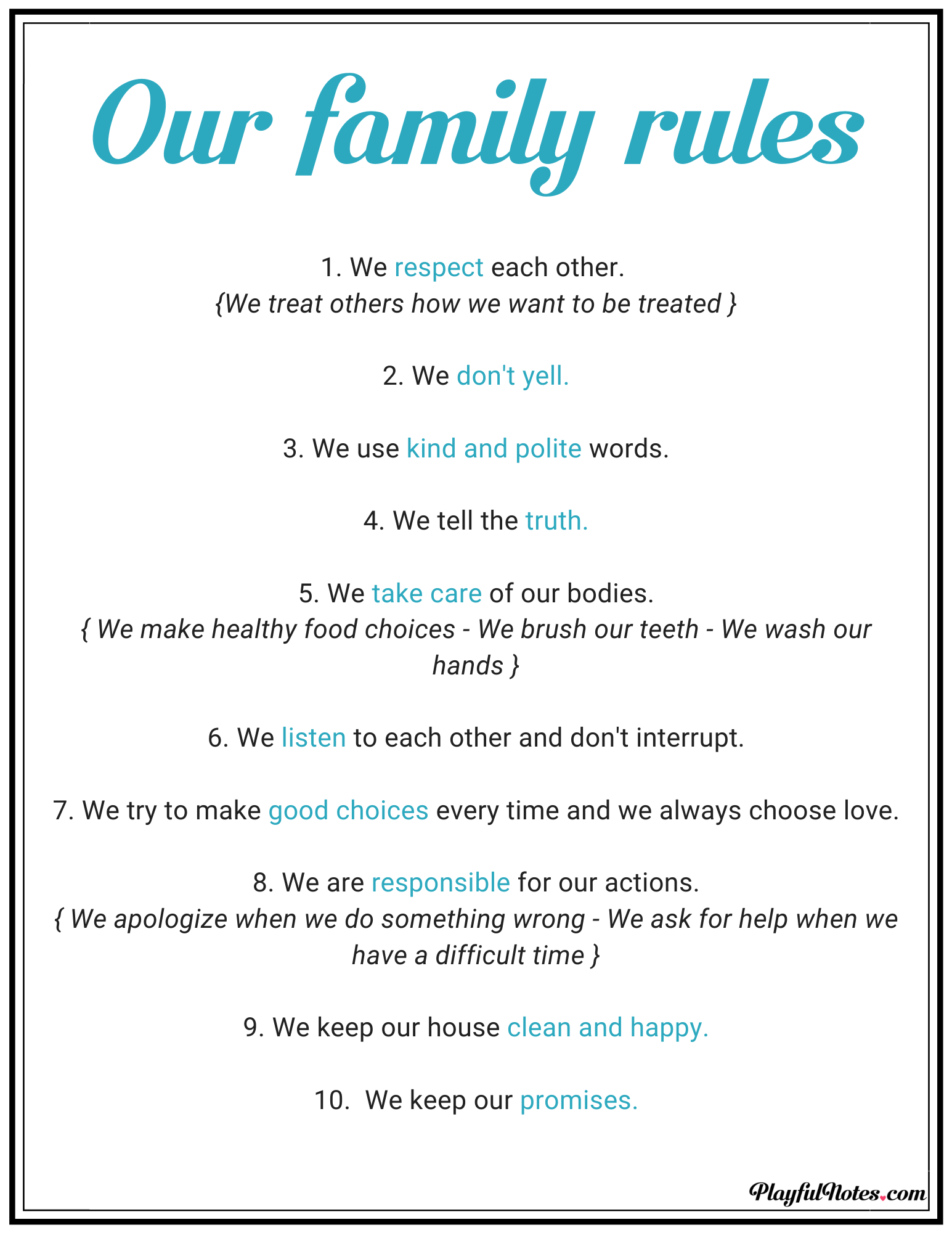 It takes time and patience but these rules and values, but it's totally worthwhile! If they are implemented in the right way and the child truly understands them, they will guide them for the rest of his life.
Download the printable template and create your own family rules
To download the printable, you just need to click the link below.
>> Click here to download the printable Family Rules poster
The printable file includes the list of family rules, the list of family values, and the list including both rules and values.
More from Playful Notes
How to declutter toys: a guide to cleaner rooms and happier kids
A step by step guide to toy rotation: a way to use fewer toys and encourage more independent play
Our favorite road trip games for young kids {12 free and fun ideas}
photos from depositphotos.com