This post may contain affiliate links. Read my whole disclosure here.
If you are looking for fun travel activities for kids, here is a list of ideas to inspire you! Creating a travel binder will keep your kids busy for hours and make traveling a lot easier and more enjoyable for the whole family!
Traveling with kids always brings so many wonderful moments that become precious family memories! I love traveling with my kids and enjoying new experiences on our trips!
But no matter how much I love traveling, spending many hours in the car or airplane with two active kids can easily become a challenge.
I don't like packing a lot of toys and books to keep the kids entertained on our vacations, so I looked for a way to pack lightly and still have nice activities on hand whenever we need them.
So I decided to create a big travel binder for my kids!
This idea turned out to be great for us! My kids love their travel binder, and the activities keep them busy for hours!
It is so great to only pack a binder and have all the activities in one place! I'm so happy with how simple and helpful this idea is that I wanted to share all the details with you so you can try it on your next vacation!
---
The first steps for creating a travel binder for kids
A travel binder can work great for multiple ages! The activities I included in the binder are based on what my kids like. But you can easily adapt this idea to your kids' ages and preferences.
Here is what you'll need to get started:
a 1-inch binder with a clear pocket in the front
colored zipper file bags (I used these ones, and they were great)
the supplies for each activity (depending on your preferences – You can find details about our activities below).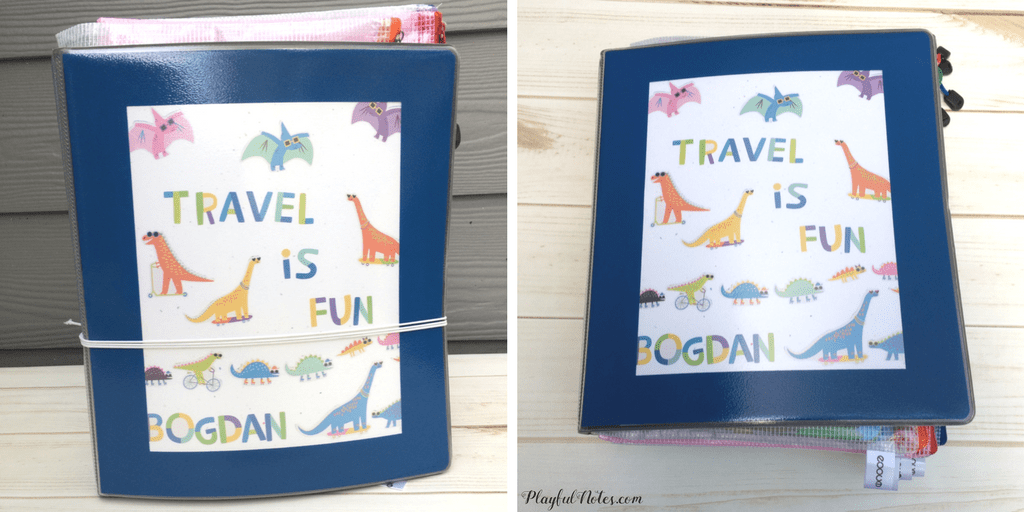 ---
What we included in our travel binder
Here are all the details about the items we included in two of the travel binders we created over the years. I hope they will offer you some inspiration for choosing the items to include in your travel binder.
Travel binder for kids: Cover and inside covers
Invite the kids to create a cover for your travel binder and insert it into the clear pocket of the binder.
We used the inside pockets to store items like scavenger hunts and kids' magazines.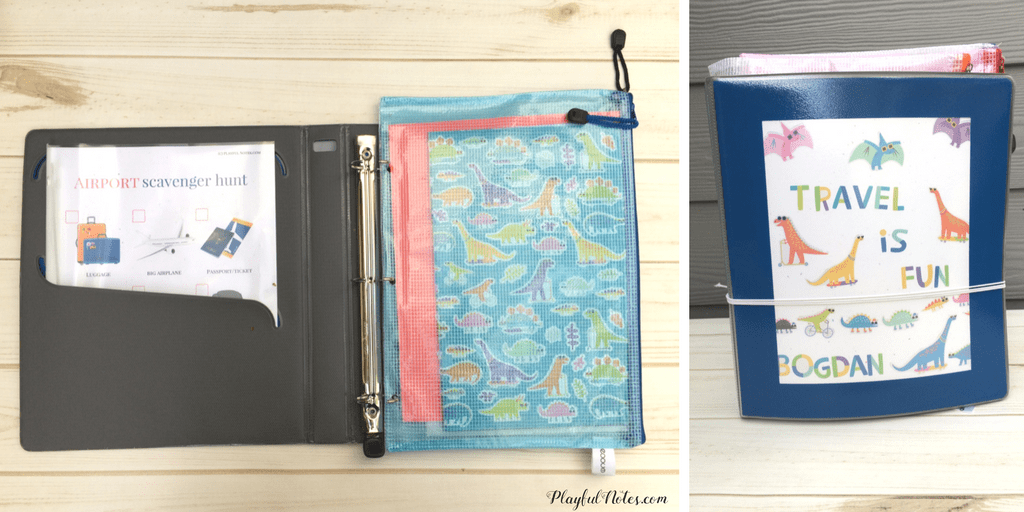 Bag #1: On the Go activities
The bag included:
What I love about these activities is that they are fun and mess-free! Kids use a refillable water pen to reveal the nice and bright pictures that are only visible when wet. The On the Go collection includes many other activity pads with different characters and themes.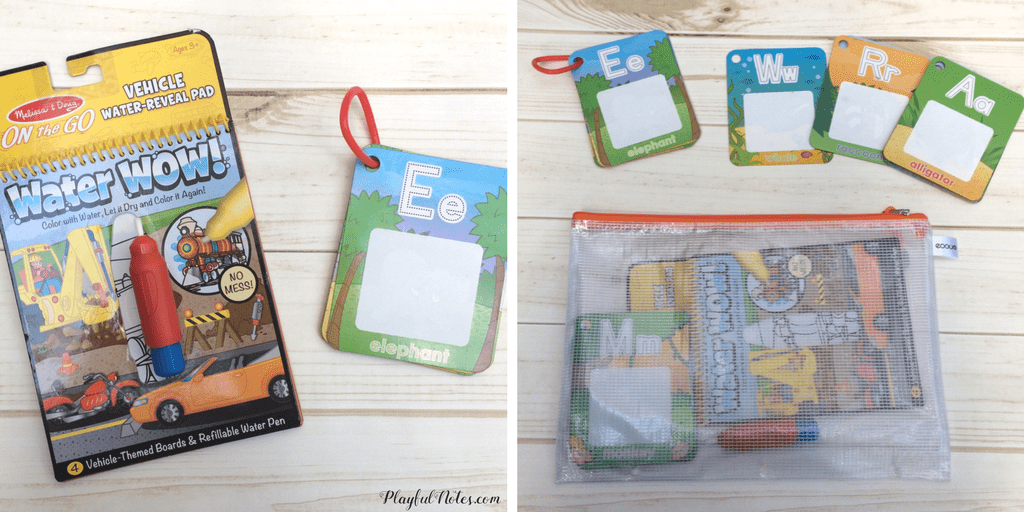 Bag #2: Mazes
The bag included:
Amazing Mazes (a maze book for young kids) – This activity book is great for both long flights and car trips.
Bag #3: Homemade games using coding labels
Bag #4: Puzzles and a felt book
The bag included:
– 2 puzzles (I stored them in ziplock bags to avoid carrying their boxes)
– one dinosaur felt book.
We bought the felt book from Target The dollar section from Target is a great place to find small games and activities that are perfect for traveling.
Bag #5: Games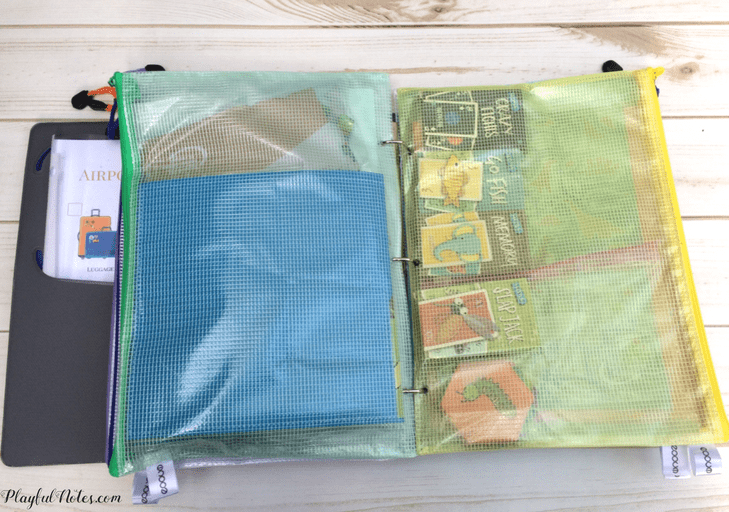 The bag included: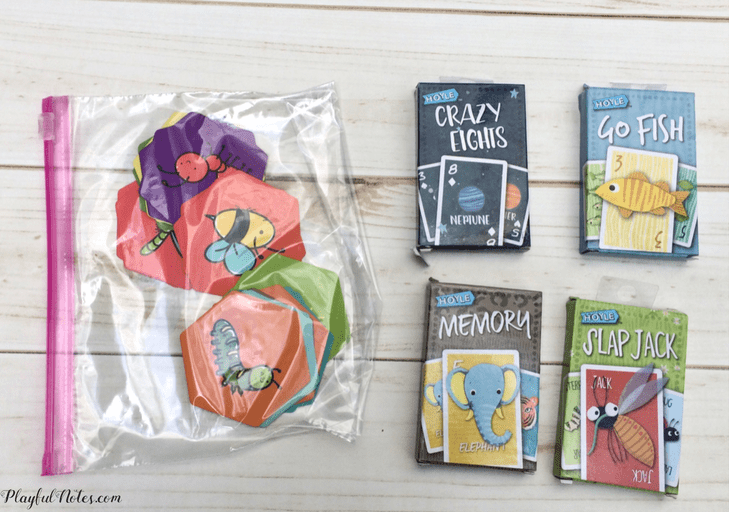 Bag #6: Stickers
The bag included:
Bag #7: Cars
An activity binder for my kids wouldn't be complete without some cars! So in the last bag, I included some mini cars (like these ones) and mini figurines.
---
Travel binder for kids: More ideas
Here are some additional ideas from a different travel binder that I created for my kids.
Bag #8: LEGO figures and science cards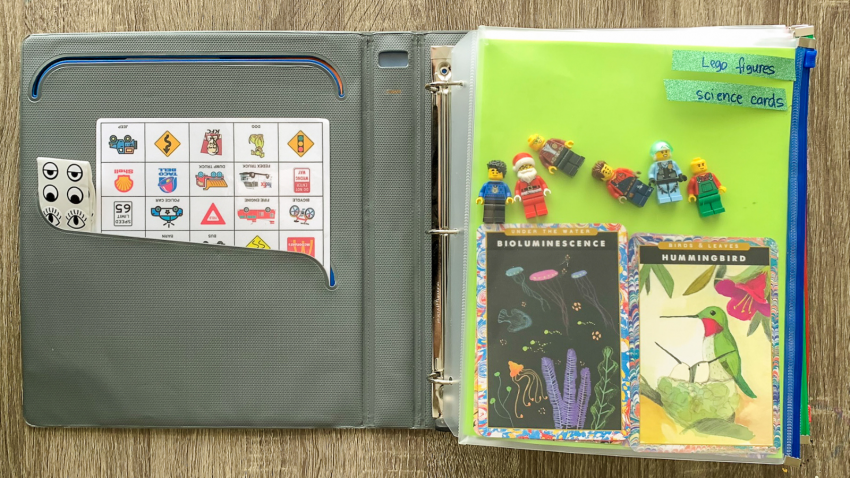 The bag included:
Bag #9: Art supplies
The bag included:
pencils and colored pens
stickers
drawing prompts
Bag #9: Creative fun
The bag included:
hidden pictures book
scratch art activity
Bag #10: Fun activities
The bag includes:
---
I hope that you enjoyed these ideas and that they will inspire you to create an awesome travel binder for your next family vacation!