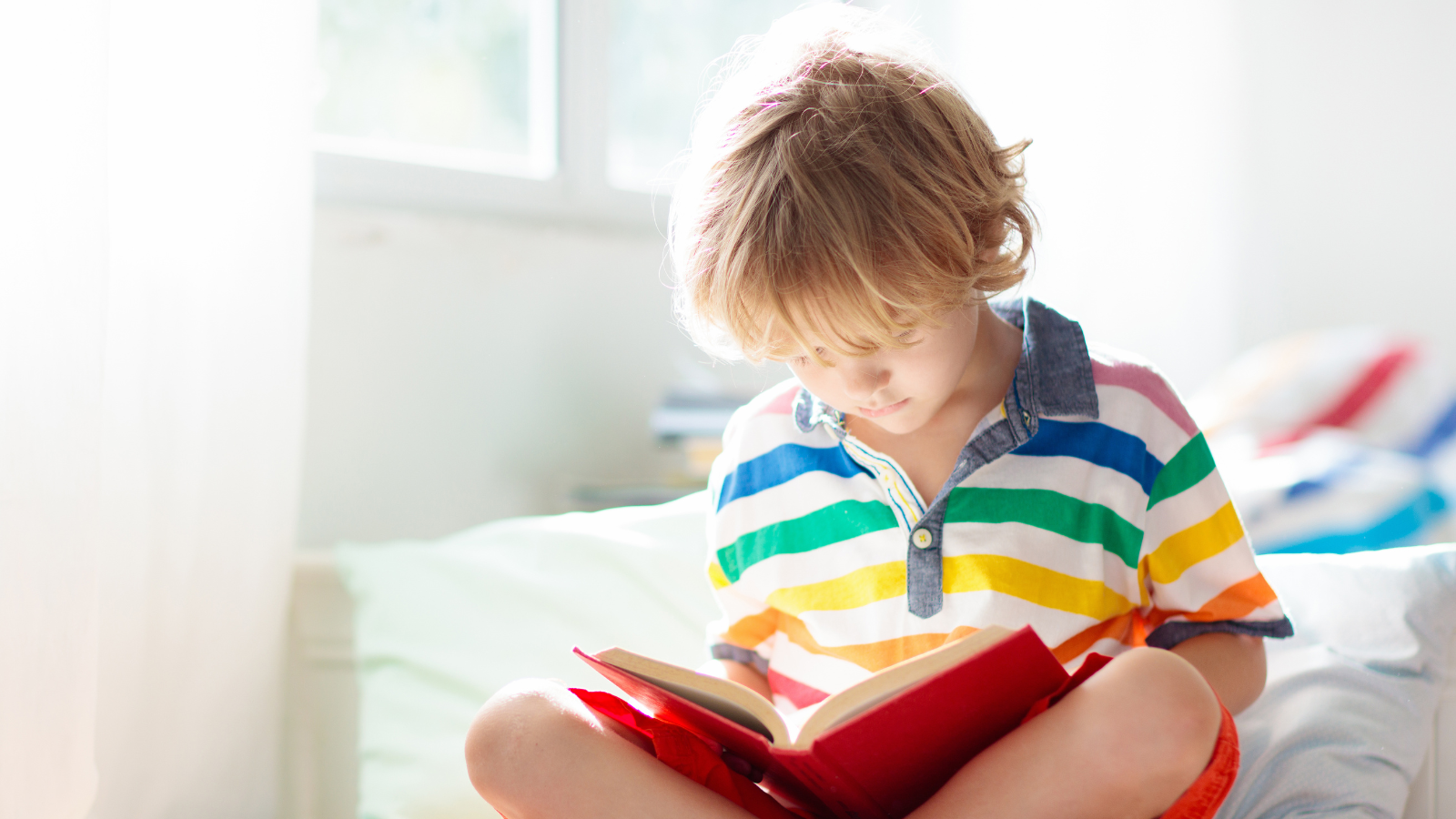 This post may contain affiliate links. Read my whole disclosure here.
Inside: Discover an awesome summer reading list for kids ages 6-8 and enjoy the books with your little ones!
Every year, at the beginning of June, I prepare a list of books to read with my children during the summer months.
This list makes it much easier for me to encourage reading and enjoy lovely stories with my kids throughout the summer.
We read together almost every day, and discovering new stories together is such a great way for us to connect and start conversations on all kinds of topics.
When choosing the books for our summer reading list, I always follow 3 simple rules:
I make sure to include a variety of topics. I choose both books based on my kids' interests and books that can inspire them to explore new topics.
I try to select both funny, adventurous books and heartfelt, inspiring stories that can spark interesting conversations with the kids.
I adjust our list throughout the summer based the feedback I receive from my kids. Sometimes we discover an author, a topic, or a series we love, and we replace some of the books on the list with new ones.
If you want to create a reading list for your kids this summer, I gathered here a list of awesome books to inspire you! The list includes picture books, chapter books, and a few non-fiction books, so you have plenty of options to choose from.
📚 At the end of the article, you'll also find a printable reading list that you can download and use throughout the summer.
---
Picture books
Even if your kids can already read chapter books on their own, I encourage you to still include picture books on your list. The stories are a lovely way to explore different topics together and start interesting conversations with the kids.
⭐ Nerdycorn (by Andrew Root) – an engaging book about a clever unicorn who loves everything about science and tech but realizes that friendship is more than just about solving problems
⭐ The Crayon Man: The True Story of the Invention of Crayola Crayons (by Natascha Biebow) – a colorful biographical tale that dives into the fascinating origin of Crayola crayons
⭐ Evelyn Del Rey Is Moving Away (by Meg Medina) – a touching story about two best friends who navigate the emotions of saying goodbye
⭐ Margaret and the Moon (by Dean Robbins) – an inspiring tale about the young Margaret Hamilton and her love for numbers that later led her to NASA
⭐ The Day You Begin (by Jacqueline Woodson) – a lovely story about the power of sharing our stories and finding the courage to connect with others even when feeling different
⭐ This Is How We Do It: One Day in the Lives of Seven Kids from around the World (by Matt Lamothe) – a great book for teaching kids about different cultures from around the world
⭐ The Invisible Boy (by Trudy Ludwig) – a heartfelt story about kindness and friendship
⭐ The Girl Who Thought in Pictures: The Story of Dr. Temple Grandin (by Julia Finley Mosca) – an inspiring book that tell the story of Dr. Temple Grandin who went from being diagnosed with autism as a child to becoming an amazing science hero
⭐ Enemy Pie (by Derek Munson) – a funny story about friendship, kindness, and the challenges of making new friends
⭐ Rosie Revere, Engineer (by Andrea Beaty) – an awesome book about a girl who dreams of becoming an engineer and learns about failure and the power of not giving up
⭐ Shark Lady: The True Story of How Eugenie Clark Became the Ocean's Most Fearless Scientist (by Jess Keating) – an inspiring true story about the fearless female scientist who defied gender stereotypes and studied sharks
⭐ Idea Jar (by Adam Lehrhaupt) – a creative book that shows how an idea can be captured and fostered to create wonderful stories
⭐ The Gardener (by Sarah Stewart) – an award-winning story told through letters sent by a girl visiting her uncle in a big city to her family back home
⭐ Slow Down: 50 Mindful Moments in Nature (by Rachel Williams) – a beautiful book that teaches kids about mindfulness and the power of slowing down and enjoying nature
⭐ Be a Maker (by Katey Howes) – a lovely book that celebrates creativity and encourages young kids to get creative
⭐ This Way, Charlie (by Caron Levis) – a lovely story about the powerful friendship between a blind horse and a gruff goat
⭐ The Bug Girl: A True Story (by Sophia Spencer and Margaret McNamara) – the true story of a 7-year-old girl who was bullied because of her love for bugs and got the support of hundreds of women scientists
---
Chapter books
I love discovering new chapter books with my eldest son! We usually read the first book of a series together, and if my son enjoys it, he often reads the rest of the series on his own.
⭐ Ada Lace, on the Case (by Emily Calandrelli) – a thrilling book that follows a curious girl who loves science and technology and her quest to solve mysteries
⭐ Summer According to Humphrey (by Betty G. Birney) – a charming book about a classroom hamster's fun-filled summer adventures
⭐ High Tide in Hawaii (by Mary Pope Osborne) – an exciting tale from the Magic Tree House series that transports young readers to a historical adventure in Hawaii
⭐ The Mystery at the Coral Reef (Greetings from Somewhere – by Harper Paris) – an engaging story that follows the adventures of two siblings who travel to Australia and discover a mysterious underwater world
⭐ Where Is the Great Barrier Reef? (by Nico Medina)
⭐ Ivy and Bean series (by Annie Barrows) – a series about the adventures of two very different girls who build an unexpected friendship
⭐ Dragon Masters series (by Tracey West) – a fast-paced series with easy-to-read text and lots of illustrations that is perfect for kids who love dragons
⭐ The Princess in Black (by Shannon Hale and Dean Hale) – a funny, action-packed series about the adventures of a brave princess dressed in black
⭐ Dragons and Marshmallows (Zoey and Sassafras series – by Asia Citro) – the first book in a series about a smart, curious girl who helps magical animals using science
⭐ The Case of the Missing Cheetah (Secret Spy Society – by Veronica Mang) – a funny, adventurous series that features three girls that uncover a secret society of some of the most famous female spies in history
⭐ Mia Mayhem Is a Superhero! (by Kara West) – the story of an 8-year-old girl who finds out she is a superhero and gets invited to join a special after school program
⭐ Rosie Revere and the Raucous Riveters: The Questioneers Book #1 (by Andrea Beaty) – a lovely book about engineering, perseverance, and the power of teamwork
⭐ Comic book: The Bad Guys (by Aaron Blabey)
⭐ Comic book: CatStronauts: Mission Moon (by Drew Brockington) – a funny, adventurous comic book series that is great for young readers
---
Non-fiction books
⭐ See Inside How Things Work (by Conrad Maso) – an awesome flap book that shows kids how some inventions, gadgets, and devices work
⭐ The Magic and Mystery of Trees (by Jen Green) – a beautifully-illustrated book that invites kids to explore the fascinating natural science of trees
---
How to download the printable summer reading list
If you want to explore some of the books on this list with your kids, I created a printable list you can download and use throughout the summer.
This printable list is part of our exclusive resource library.
To access the library, click the link below and you'll get the password for accessing the printable file (and many other printable resources for kids).
📚 Download the printable summer reading list
---
If you are already a member of the Playful Notes community, access the printable library here using the password you can find at the bottom of any of my emails.
⭐ You can also find a list of all these books on Amazon here.
I hope you and your kids will enjoy reading these books together!