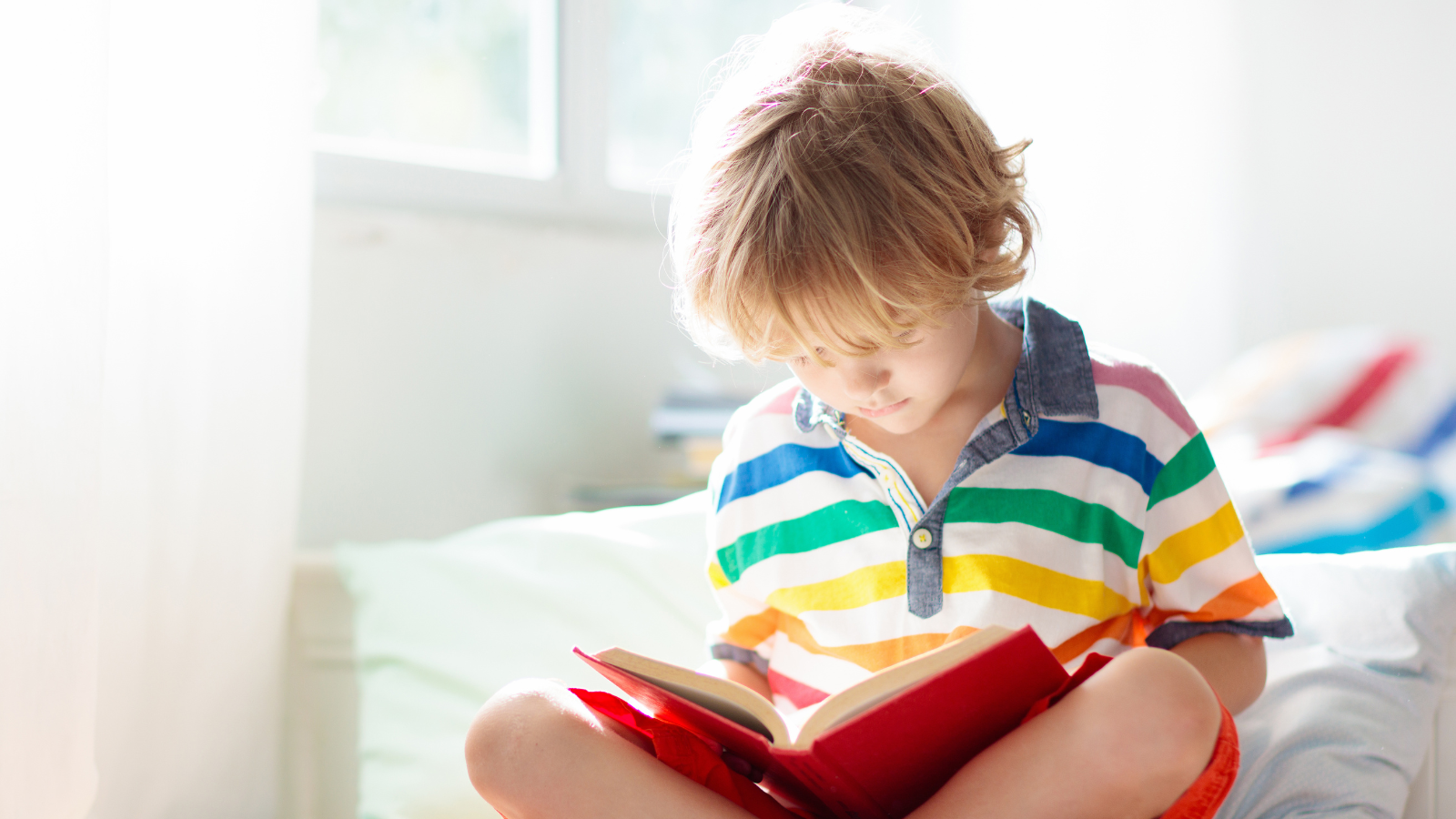 This post may contain affiliate links. Read my whole disclosure here.
Inside: Discover an awesome summer reading list for kids ages 8-10 and enjoy the books with your little ones!
Every year, at the beginning of June, I prepare a list of books to read with my children during the summer months.
This list makes it much easier for me to encourage reading and enjoy lovely stories with my kids throughout the summer.
We read together almost every day, and discovering new stories together is such a great way for us to connect and start conversations on all kinds of topics.
When choosing the books for our summer reading list, I always follow 3 simple rules:
I make sure to include a variety of topics. I choose both books based on my kids' interests and books that can inspire them to explore new topics.
I try to select both funny, adventurous books and heartfelt, inspiring stories that can spark interesting conversations with the kids.
I adjust our list throughout the summer based the feedback I receive from my kids. Sometimes we discover an author, a topic, or a series we love, and we replace some of the books on the list with new ones.
If you want to create a reading list for your kids this summer, I gathered here a list of awesome books to inspire you! The list includes picture books, graphic novels, and chapter books, so you have plenty of options to choose from.
📚 At the end of the article, you'll also find a printable reading list that you can download and use throughout the summer.
---
Picture books and graphic novels
Even if your kids can already read chapter books on their own, I encourage you to still include picture books on your list. The stories are a lovely way to explore different topics together and start interesting conversations with the kids.
⭐ The Girl With a Mind for Math: The Story of Raye Montague (by Julia Finley Mosca) – a captivating true story of Raye Montague, a hidden figure in the world of engineering and technology, who overcame adversity to become a pioneer in the field
⭐ Evelyn the Adventurous Entomologist: The True Story of a World-Traveling Bug Hunter (by Christine Evans) – a biographical story of Evelyn Cheesman, a courageous entomologist who explored exotic places to study insects
⭐ El Deafo (by Cecce Bell) – an inspiring and humorous graphic novel memoir about navigating childhood with a hearing impairment
⭐ Science Comics: Dinosaurs: Fossils and Feathers (by MK Reed) – an engaging comic book that takes young readers on a journey through the fascinating world of dinosaurs and paleontology
⭐ Max Meow: Cat Crusader (by John Gallangher) – a fun, action-packed graphic novel about Max Meow, a cat with superpowers, embarking on adventure-filled missions
⭐ Fantastically Great Women Who Changed The World (by Kate Pankhurst) – an inspiring book that introduces children to some of the most influential women who left their mark on history
⭐ The Leaf Detective: How Margaret Lowman Uncovered Secrets in the Rainforest (by Heather Lang) – a picture book biography of Margaret Lowman, a pioneer in the study of rainforest canopies, highlighting her contributions to ecology
⭐ Hidden Figures: The True Story of Four Black Women and the Space Race (by Margot Lee Shetterly) – a beautifully illustrated adaptation of the acclaimed best-seller, celebrating the contributions of four African-American women to NASA's space program
---
Chapter books
I love discovering new chapter books with my eldest son! We usually read the first book of a series together, and if my son enjoys it, he often reads the rest of the series on his own.
⭐ The Penderwicks: A Summer Tale of Four Sisters, Two Rabbits, and a Very Interesting Boy (by Jeanne Birdsall) – a charming and heartwarming story about the summer adventures of four sisters
⭐ Escape from Mr. Lemoncello's Library (by Chris Grabenstein) – a thrilling and imaginative book that follows a group of children trying to solve puzzles and escape from a library built by a game maker.
⭐ Wizard of Once series (by Cressida Cowell) – an adventurous and magical series set in a world filled with wizards, warriors, and enchanted creatures
⭐ I Survived the Battle of D-Day, 1944 (by Lauren Tarshis) – a historical fiction book that presents the monumental D-Day battle through the eyes of a young soldier
⭐ Pages & Co.: The Bookwanderers (by Anna James) – a wonderful book about the magic of books and the power of imagination
⭐ When You Trap a Tiger (by Tae Keller) – a beautifully written and profound tale about a girl who encounters a magical tiger from her grandmother's Korean folktales
⭐ The Invention of Hugo Cabret (by Brian Selznick) – a visually stunning novel that tells the story of an orphan boy living in the walls of a busy Paris train station
⭐ Auggie & Me: Three Wonder Stories (by R.J. Palacio) – a companion book to the best-seller "Wonder," providing deeper insights into Auggie's life through the perspectives of three other characters.
⭐ The Last Bear (by Hannah Gold) – a lovely story of kindness and adventure about a girl who meets the last polar bear on Bear Island
---
Non-fiction books
⭐ Women in Science: 50 Fearless Pioneers Who Changed the World (by Rachel Ignotofsky) – a fascinating collection highlighting 50 women who made significant contributions to science, technology, engineering, and mathematics
⭐ Mistakes That Worked: 40 Familiar Inventions & How They Came to Be (by Charlotte Foltz Jones) – an intriguing look at how some of the world's most important inventions were actually discovered by accident
⭐ Little People, BIG DREAMS: Treasury: 50 Stories of Brilliant Dreamers (by Maria Isabel Sanchez Vegara and Lisbeth Kaiser) – a beautifully illustrated anthology featuring stories of 50 dreamers who changed the world, inspiring kids to dream big
---
How to download the printable summer reading list
If you want to explore some of the books on this list with your kids, I created a printable list you can download and use throughout the summer.
This printable list is part of our exclusive resource library.
To access the library, click the link below and you'll get the password for accessing the printable file (and many other printable resources for kids).
📚 Download the printable summer reading list
---
If you are already a member of the Playful Notes community, access the printable library here using the password you can find at the bottom of any of my emails.
I hope you and your kids will enjoy reading these books together!