This post may contain affiliate links. Read my whole disclosure here.
Limited time: The 5-step strategy to setting effective limits with your child
Download the strategy that will help you set limits with calm and empathy, and encourage kids to follow your guidance without threats or punishments!
Click here to download the free guide!
Going on long family trips with young kids can easily become overwhelming or stressful. Young children don't have a lot of patience and those long hours spent in the car or on the plane can be very difficult to handle.
We started traveling with our son ever since he was a baby and we went through plenty of situations when things didn't go as planned. Tantrums in the airport, endless "Are we there yet?" questions in the car, exhausting road trips that required all my patience.
In time, I learned to deal with these situations better and things changed for the better. Long trips became more enjoyable for all of us, I found great ways to keep my son busy and happy while we traveled, and vacations finally felt more relaxing and fun!
One of the things that made the biggest difference was using different travel activities to make trips more engaging for my son.
At first, it took a while to discover what activities would keep him busy for a long time because he used to get bored very quickly. Then, the next challenge was to find activities that won't take too much space in our luggage.
When we traveled by car having a small box of interesting toys and books on the back seat was a good solution but things were more challenging when traveling by plane. This is how I discovered better alternatives and learned to choose toys and activities that could easily fit in my handbag or his small troller.
We started by creating a travel binder with small toys, printables, and activities that kept him busy during long trips.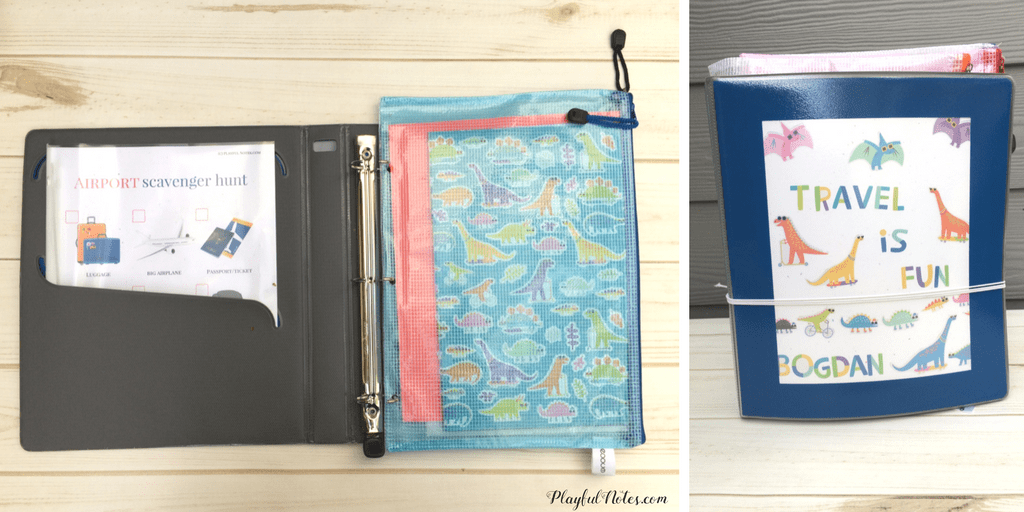 If you are curious to see how one of these binders looks like, you can check it out here.
Short after I started creating these binders I realized that I could make things even easier for me by creating a printable travel binder.
Why creating a printable travel binder is the best solution for long trips with young kids
After testing out this idea I fell in love with how easy it was to prepare for the trip and make sure that my son would have plenty of activities to do while we travel!
Here are some of the reasons why I love printable travel binders:
They are very easy to create. Once you have the printable files you can pick the best activities for your child and print them in a few minutes.
You can reuse the activities over and over again. We travel often so being able to reuse the same activities made things a lot easier! I just print the pages that I want for our trip and the new binder is ready right away!
The binder is light and easy to use in many situations. You can include it in your handbag if you travel by plane or easily use it in the car during road trips. Also, you can use the activities at the hotel, at restaurants, or any other times during the vacation when you need to keep your child busy for a while.
My child loves the activities! The printable travel binder turned out to be such a sanity-saving solution for us! My son can do the activities without a lot of involvement from my side so I can finally have some well-deserved quiet time while traveling. He has fun during the trip and this makes the whole vacation a lot better for all of us!
What is included in our printable travel binder
We started using printable travel activities ever since my son was a toddler, so we tried both toddler activities and activities for preschoolers.
Here are some of our favorite activities:
"I spy" games
scavenger hunts
easy games and fun activities
We also have some educational activities that were great for teaching him about letters and numbers while we traveled.
How to create a printable travel binder for your child
If you like the idea of creating a printable travel binder for your next family vacation, here is how you can do this:
Download the printable travel activities below. (These activities are suitable for children ages 2.5 to 6 years old.)
Select the activities that are suitable for your child and your trip and print them. You can print the whole activity pack or you can just select some of the activities. The majority of the activities are suitable for all trips but there are some of them that are only suitable for road trips, airplane trips, or camping trips.
(Optional) Laminate the pages or put them in heavyweight sheet protectors. This will allow you to reuse them for every family trip and use them several times during the same trip. If you do this, also make sure to buy some dry erase markers for your child to use for the activities.
Place all the pages in a binder or go to an office copy shop to have them bound. If you use a binder, I recommend you to pick a binder with a clear cover because it looks really cute to put the printed cover on top of the binder!
A sneak peek inside one of our printable travel binders
Here is how one of the travel binders that we use in one of our trips looked like:
All these travel activities and many more are included in the Family Travel Bundle, which also includes a printable travel journal for kids and some helpful printables for planning and handling long trips with kids.
You can check out the whole Family Travel Bundle here and download the printable activities!
I hope that you'll enjoy the printable travel binder as much as we do! I wish you many wonderful family vacations with happy moments to enjoy with your kids!
More inspiration for traveling with kids
>> Want to remember this? Save these ideas to your favorite Pinterest board!
preview photo from depositphotos.com